In today's digital age, our iOS devices are more than just communication tools; they're repositories of memories, work documents, and essential apps. iCloud backups act as a safety net, ensuring that our data remains secure even if we face unforeseen circumstances. However, the traditional restoration method often demands a device reset, which can be inconvenient and risky. This guide delves deep into alternative methods that allow for a restore from icloud backup without reset, ensuring your current data remains untouched.
Understanding iCloud Backups
iCloud backups are Apple's solution to ensure that even if your device is lost, damaged, or replaced, your data isn't. These backups are essentially a snapshot of your device's data and settings at a given time. They capture everything from app data to device settings, ensuring a comprehensive backup. However, while thorough, the traditional restoration process requires resetting the device to factory settings and erasing all current content.
Why restore from icloud backup without reset?
There are several compelling reasons to opt for a non-reset restoration:
| Aspect | Description |
| --- | --- |
| Data Preservation | Post-backup data is valuable. A reset could mean losing any data or settings configured after your last backup. |
| Convenience | A reset means starting from scratch. Re-downloading apps, re-configuring settings, and re-establishing device preferences can be tedious. |
| Safety Concerns | Resetting devices, while generally safe, carries a slight risk. The process might not go as planned, leading to potential data loss or device malfunctions. |

Alternative Methods to the Rescue
The digital realm offers a plethora of solutions for those looking to restore their devices without a reset:
iCloud Backup Extractor Tools:
Tools like iMyFone D-Back, Dr.Fone, and Coolmuster are designed to extract data from iCloud backups selectively. They allow users to preview the backup content and choose specific data segments for restoration. This ensures a tailored recovery process catering to individual needs.
Specialized Restoration Tools:

CopyTrans Cloudly and AnyRecover offer a more specialized approach. They allow for the restoration of specific data types, such as contacts, calendars, or notes, providing users with granular control over the restoration process.
Direct iCloud Access:

iCloud.com provides a direct way to access your iCloud backup files. While it's straightforward, it has its limitations. This method lets you download data to your computer rather than directly to your iPhone.
Step-by-Step Guide to Restore from iCloud Backup Without Reset:
For those using iCloud Backup Extractor tools, the process is straightforward: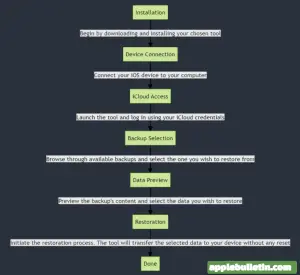 1. Installation: Begin by downloading and installing your chosen tool.
2. Device Connection: Connect your iOS device to your computer.
3. iCloud Access: Launch the tool and log in using your iCloud credentials.
4. Backup Selection: Browse through available backups and select the one you wish to restore from.
5. Data Preview: Preview the backup's content and select the data you wish to restore.
6. Restoration: Initiate the restoration process. The tool will transfer the selected data to your device without any reset.
Frequently Asked Questions on how to restore from iCloud Backup Without Reset:
Q1: How safe are third-party restoration tools?
While many third-party tools prioritize user safety, it's essential to choose well-reviewed and trusted tools to minimize potential security risks.
Q2: Can I restore specific apps using these methods?
Yes, many tools allow for the restoration of specific app data. However, some apps require re-authentication after restoration.
Q3: Will my device's performance be affected post-restoration?
Typically, non-reset restoration methods don't impact device performance. They restore data without altering the device's core operating system.
Q4: Does Apple endorse third-party methods to restore from iCloud Backup Without Reset?
While Apple doesn't officially recommend these methods, they've been developed by third-party developers and have garnered success and trust among many iOS users.
Q5: What if the data I want isn't in the backup?
If specific data isn't present in the backup, these methods won't be able to restore it. Always ensure regular backups to keep your data up-to-date.
Q6: Can I choose which parts of the backup to restore?
Tools like iMyFone D-Back and Dr.Fone allow for selective restoration, letting you choose which parts of the backup you wish to restore.
Conclusion
The ability to restore from an iCloud backup without resetting the device offers a perfect blend of recovery and preservation. With tools like iCloud backup extractors and specialized software like CopyTrans Cloudly and AnyRecover, users can achieve a restoration process that aligns with their specific needs. As always, prioritize data security and opt for tools with a proven track record to ensure a seamless and safe restoration experience. In the evolving digital landscape, having multiple restoration options ensures that users never have to compromise on data safety or convenience.
For more informative Step by Step Guides stay tuned with applebulletin.com